Cos Cob Fire Police Patrol History
The original concept of the Fire Patrol dates back to the New York Board of Fire Underwriters of the early 1800's. The New York Board of Fire Underwriters was an organization that insured personal and business property. This group issued a two percent fire tax on commercial structures in the City, which was used to run the Fire Patrols. Their job was to patrol the streets of New York City in search of fires. If a fire was discovered, they sounded off ratchets, a high screech, to warn people in the building or homes to evacuate to safety. Another Fire Patrolman would then run and get the Patrol wagon which contained fire salvage equipment. Once on scene the Fire Patrol assisted in saving valuables in the buildings. As a result, the Patrol received its name from the Fire Insurance Industry. It has since been a tradition that Fire Patrolmen wear red fire helmets to distinguish themselves at the fire scene.
View Our Timeline Below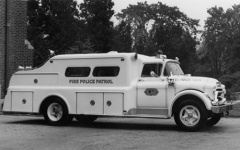 1956
In 1956, another truck committee was established to draw up specifications needed for a new patrol vehicle.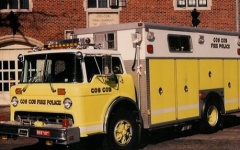 1980
In the early 1980's, the Town presented the idea of a new truck. Once again, a truck committee was established to create the specifications of this new truck.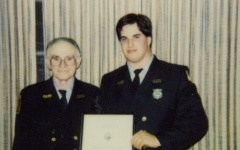 1990
In the early 1990's, members of the Fire Police Patrol felt a lack of membership and looked towards recruiting young adults.

2002
Since late 2002 the Cos Cob Fire Police Patrol has continued to work closely with the Greenwich Police Department to allow patrolmen to function as special police officers at direction of the Chief of Police.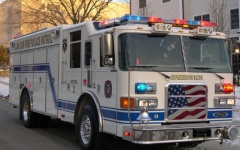 2004
The Patrol formed another truck committee to design a new truck. After 20 years of service, the 1984 Ford/Saulsbury was retired and replaced by a 2004 Pierce Enforcer with a heavy duty rescue body.


2009
In 2009, the patrol purchased a Ford F-550 Utility Body truck to expand the services provided to the town of Greenwich.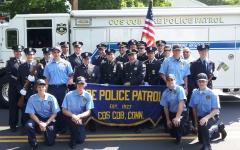 2010
The Cos Cob Fire Police Patrol started an Explorer Post program to train and recruit new members into the company.

2011
In March of 2011 an Officer Succession Program was instituted. This program allows Patrolmen the opportunity to lead as a rank of Sergeant.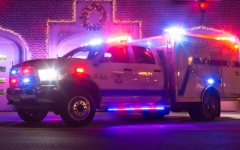 2015
In 2015, the Patrol purchased a new truck. The Ram 5500 Crew Cab with a custom built utility body replaced Utility 2.